BBVA-A Broadband Amplifier


By Mark Connelly, WA1ION
revision date November 5, 1999



Comercial
amplifiers:
Advanced Receivers
-- "1-30 MHz amplifier, 2.5 dB noise figure, 20 dB gain; modified model for operation down to 0.5 MHz, at $32.95."

Kiwa Electronics


The BBVA-A broadband amplifier is a good choice for low-noise amplification in the 150 to 6500 kHz frequency range.
A VMOS type FET, the Vishay-Siliconix VN10KM, is used as the gain device.
The input impedance of the amplifier is about 300 to 600 ohms and its output works well into 50 or 75 ohm loads.
For maximum power transfer to the amplifier's input from a 50 or 75 ohm source, a 1:4 step-up transformer, Mini-Circuits T4-6T-X65, is recommended.
Gain is approximately 20 dB.
Outputs of at least 1.5 Vrms (4.2 vpp or +16.5 dBm) into 50 ohms should be achievable before distortion becomes excessive.
The supply should be regulated at +10 VDC if possible. Operation at higher voltages will not improve gain or intercept point greatly; further it will require the transistor to be heat-sinked to prevent thermal failure.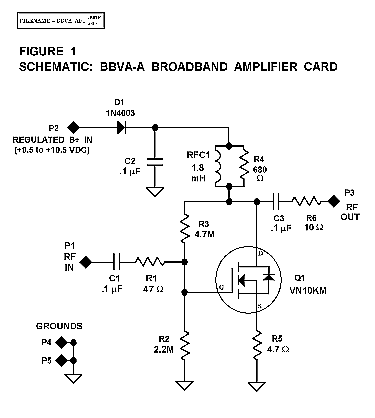 BBVA-A Broadband Amplifier Card

Click here for larger image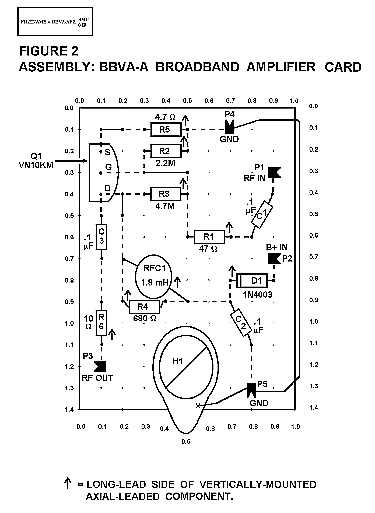 BBVA-A Broadband Amplifier Card

Click here for larger image
BBVA-A VMOS Input
Broadband Amplifier Card parts list
Item

Designator

Description
and Value

Ven-
dor

Vendor Stock #

Qty

1

-

perfboard:1.0"X1.4"

RS

276-1396 (cut)

1

2

C 1,2,3

capacitor, 0.1 uF

MOU

539-CK05104K

3

3

D 1

diode, 1N4003

MOU

592-1N4003A

1

4

H 1

screw, 4-40 X .25"

MOU

572-01880

1

5

H 1

spacer, 4-40 X .5"

MOU

534-1450C

1

6

H 1

solder lug, #4

MOU

534-7311

1

7

P 1-5

flea-clip,.042"hole

MOU

574-T42-1/100

5

8

Q 1

FET, VN10KM

RSC

900-5530

1

9

R 1

resistor, 47 ohm

CS

RA47

1

10

R 2

resistor,2.2 megohm

CS

RA2.2M

1

11

R 3

resistor,4.7 megohm

CS

RA4.7M

1

12

R 4

resistor, 680 ohm

CS

RA680

1

13

R 5

resistor, 4.7 ohm

CS

RA4.7

1

14

R 6

resistor, 10 ohm

CS

RA10

1

15

RFC 1

inductor, 1.8 mH

MOU

434-05-182J

1

Misc. items: hook-up wire, buss wire, solder "AS REQUIRED"

Vendor Codes

CS

Circuit Specialists = http://www.cir.com/

MOU

Mouser Electronics = http://www.mouser.com/

RS

Radio Shack (retail) = http://www.radioshack.com/

RSC

RadioShack.com (on-line, ex-Tech America) = http://www.radioshack.com/
More on Mark Connelly's web site:
RF Circuit Building Blocks
WA1ION DX Labs Web links