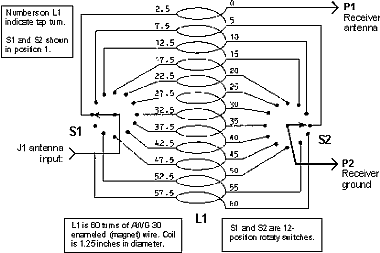 Construction of impedance matcher
The circuit has three parts, a coil, which you must fabricate yourself and two commercial rotary switches to vary the input and output impedances. Twelve-position rotary switches (Radio Shack part number 275-1385) are used on the input (antenna side) and on the output (receiver side). The antenna is connected to the wiper of the input switch and the 12 poles are connected to taps along the coil. The wiper of the output switch is connected to the receiver ground (the outer sleeve of either external antenna jack). The 12 poles of the output switch are connected to different taps along the coil. Turn 0 on the coil is connected to the whip antenna. The table shows the exact tap connections.


Switch
Pole
Number

Antenna
Switch
Coil Turn

Receiver
Switch
Coil Turn

1

2.5

5

2

7.5

10

3

12.5

15

4

17.5

20

5

22.5

25

6

27.5

30

7

32.5

35

8

37.5

40

9

42.5

45

10

47.5

50

11

52.5

55

12

57.2

60
The coil is 60 turns of AWG 30 copper enameled wire. Turns are wound tightly in a single layer. The coil has an approximate diameter of 1 1/4 inches. I used an old plastic 35-mm film can as a coil form. Taps are made every 2 1/2 turns as you wind the coil, stripping away about 1/8-inch of the enamel insulation and soldering a 3 or 4-inch connecting wire for eventual connection to the switches. I used the AWG 30 copper enameled wire for the taps to reduce the bulk and stress on the solder connections.

The switches come with a tab which prevents 360 degree rotation. This should be bent out of the way to permit full rotation and facilitate operation. The switches should be mounted on either side of the coil in a small project box. I used a phone jack for the antenna input. The output leads for the antenna and ground should be kept separated from one another and as short as possible - no more than 8 inches. Alligator clips can be used to connect each lead to the receiver. I fabricated a special clip to grip the swivel base of the whip antenna. The ground connection is tricky. You don't want to use a standard phono plug, as that will switch the contacts inside the jack and cause problems. You only need to make contact with the outer sleeve, so a sawed off phono plug might work well. If you are using a dipole antenna or any antenna requiring a ground connection the input ground can be made to the receiver ground inside the coupler box.