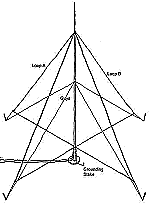 K9AY is a loop developed in the early 1990's by American radio amateur Gary Breed (K9AY).
Since then DXers, ham operators and comerical enterprises, all have raved and ranted about this loop, calling it "miraculous", "stunning" and the antenna that beats anything.
While comercial K9AY can be bought at a price, this loop can easily be homemade at low costs.
Here we tell you all about it.

---
Basic info



K9AY compact loop for lower bands
Gary Breed, K9AY, has taken loop theory farther and describes an antenna that can be erected in almost any back yard and provides performance better than most antennas. -- Read more --
Gary Breed's K9AY description [PDF]
Comments on the K9AY terminated loop [PDF]




K9AY, the antenna for serious MW DXing
Bjarne Mjelde: This is without doubt the antenna for those who want to do serious MW DXing and do not have the space to erect multiple long beverage antennas. Its gain makes it very effective for any kind of DX – be it nighttime, greyline or daytime. -- Read more --




Wellbrook's comercial K9AY system
Dave Kenny, British DX Club: After some four months of using the Wellbrook's comercail K9AY I find that I am completely hooked and don't know what I'd do without it.
-- Read more --
---
Homebrewing



First K9AY for medium wave
Al Merriman, K4GLU, was the first to use this antenna for serious medium-wave DXing. A description of this loop. -- Read more --




Build your own K9AY
The performance of the K9AY is miraculous, says George Maroti. Then gives details on how to construct one yourself. -- Read more --




Connelly's loop version
Mark Connelly's version, with drawing, of a K9AY loop. Also describes a scaled-down version of the loop.
-- Read more --




One step further: two loop system
Having adapted the original ham K9AY loop, Al Merriman took the antenna one step further, by setting up a two K9AY loop system. -- Read more --




Two loops working as four
Johan Bodin: I think I have invented a way to make two loops appear as four loops... -- Read more --




Going even further: 8 loop system
A system with 8 loops definitely works, but there are situations where nulls are difficult to get. -- Read more --




Modifications to the K9AY loop
Six suggestions to make your K9AY loop work even better. -- Read more --




More on loop modifications
Single loop will work fine. Also proof for the need of a 9:1 matching transformer. What wire length is best for medium wave. -- Read more --




Make yourself a protable K9AY
It takes some time to build, but after that you can have your setup up and running in 30 minuter. -- Read more --




Make your own transformers
Make your own broadband transformer for the K9AY; or buy one ready made from Mini-Circuits. -- Read more --




Make your own Vactrols
Two ways of producing your own Vactrols for use with your homemade K9AY. -- Read more --




Check for worn out Vactrols
George Maroti: How to check for worn out Vactrol, without removing the Vactrol from the circuit board.. -- Read more --

---
Performance



Stunning K9AY loop test
On a couple of dozen MW signals from Japan and the Koreas, the beverage never out-paced the loop. -- Read more --




Saviour in the noise
Werner Funkenhauser: I had almost given up on DXing, due to a high noise location. Then came my saviour, the K9AY loop. -- Read more --




K9AY compared with Beverages
Martin Elbe: The K9AY turns out to be an excellent performer, able to beat the Beverages in some cases.
-- Read more --




Why doesn't K9AY work for me?
Discussion on how to make the K9AY loop work as intended. -- Read more --
---
Grounding



Important with good grounding
The K9AY antenna doesn't work without ground. It needs really good ground to performe optimal. -- Read more --




Use many ground rods
Add many more ground rods, and you will get increased gain. -- Read more --
How to balance your antenna
Tom Rauch, W8JI: Discussing the need, or not, for shielding metal boxes, and how to balance different antennas as Beverage, small loops, Flag and Pennant.
-- Read more --
---

Wire matters


Loop wire separation not needed
Andy Ikin, Wellbrook: There is no real need to separate the two loops. In fact the two loops can be shorted together at the apex with no measurable affect. -- Read more --




Shape of the K9AY loop
Guy Atkins: While the K9AY is a crossed-X delta loops, other wire shapes may give good results. -- Read more --




150 feet should cover medium wave
Antennas up to 150 feet in length, and maybe just a bit more, should give full medium wave coverage. -- Read more --




Twin wires gives more gain
Andy Ikin: Experimenting with two wires shows a greater gain. More experiements needed to fully explain why. -- Read more --




Height above ground to be determined
Andy Ikin: I think some experimentation is required determining the distance above ground of the lower part of the K9AY loop. -- Read more --
---

Remote controlling


Variable termination an absolut must
Variable termination using a Vactrol or some other method is an absolute must. Peak performance cannot be realized with a fixed resistor. -- Read more --