Andes DX
Here you will find information and loggings of Andean shortwave radio stations in Bolivia, Ecuador and Peru.
We give you information on both active and historic radio stations.
We welcome any contributions and material you may wish to share with the international DX community.




The Art of Latin American DXing
Many listeners make the fundamental mistake of confusing the stations they hear on the international bands and those in Latin America. The latter are not generally interested in receiving correspondence from abroad, and if they receive many dozens of requests for "QSL" cards, the reports are usually simply thrown away.
Still, with a good knowledge it is a fascinating DX area. Here we shall tell how to do it, and what not to do.





Official databases and lists



Bolivia
Somewhat dated list, but still useful if you know the frequencies to look for.



Brazil
Brazilian station list.



Colombia
Official government lists of AM and FM stations. Under "Planes TÚcnicos de Radiodifusiˇn Sonora AM - FM" are ZIPped Word document files.



Ecuador
An up-to-date official database of radio and TV stations in Ecuador.



Guatemala
La Superintendencia de Telecomunicaciones
Lists of AM and FM Radio, as well as TV stations, in pdf-format.



Honduras
CONATEL Honduras -- the whole spectrum, also rado amateurs and CB Operators, in Access database format, with ready-made queries and reports. Choose "Inventario de Expedientes".



Nicaragua
Telcor
List of AM and FM stations, but no frequencies given.



Venezuela
Lists of operators in Venezuela, not only on AM and FM, but also lists of other services such as TV, cable TV,
beepers services, cellular phones services, wireless land etc.





Other databases and lists



Brazil
DX Clube do Brasil
List of Brazilian medium wave and short wave stations, also stating addresses. Choose "Lista de emssoras do Brazil". PDF format.
MW- and FM-list, in Portuguese.




DXlinks.com
This list was made possible thanks to various contributions on the HCDX mailing list from Pentti Lintujärvi, Finland, on the DXlinks.com web site, an HCDX Partner.





Various infomation



Catholic Radio Stations
A directory of the Catholic Radio stations in the New World, that is to say, of Central and South America and the Caribbean. Compiled by Catholic Radio Update, editor Michael Dorner, MikeD509@aol.com.



Frequency list on Catholic Stations
While most Catholic shortwave is in the Americas concentrate on medium wave and stations, some are still on the shortwave band. Here's the full list, edited by Michael Dorner.



Latin American loggings 1995
All LA stations heard in Scandinavia during 1995, presented by HCDX partner Shorwave Bulletin.



Latin American loggings 1994
All LA stations heard in Scandinavia during 1994, presented by HCDX partner Shorwave Bulletin.

--Commercial--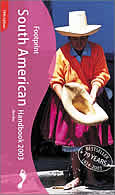 The bible to South America; great in
any DX shack



More LA stuff

Andes DX
News and info
on Andean radio:


Bolivia


Ecuador


Peru



LA DX Guide
How to catch
weak Latins



LA logs
Mohrmann's
list on LA activity



Veri signers
Email those
LA radio stations



Patepluma
Moore details
on Latin radio



Peru CD
Get your Latin music
directly from Peru